As the summer comes to an end and we reflect on all the fun we've had, it's easy to forget the stress we've put on our skin with our midsummer adventures. 
An end-of-season skin refresh is a necessity to enter autumn with happy and radiant skin. But how do you make your vibrant glow last as the air begins to cool? At Centre Salons and Spas, you'll find not only a team of skilled professionals for all of your facial needs, but also the products you'll need to sustain your radiant look throughout the year. 
Discover which facial treatment and products are best for you:
Facials For Fall
At Centre Salon and Spa, we offer only the best facial treatments using Aveda's holistic, natural approach. Our products use pure botanical ingredients that are vegan and cruelty free—to ensure your skin is being treated with the utmost care. 
We offer a range of treatment options and estheticians to suit your skin's needs. Each of our professionals thoroughly evaluates your skin and uses precise techniques to figure out which treatment is best.
View this post on Instagram
Which Product Will Maintain My Post-Facial Glow?
With so many products to choose from, finding the right fit can be daunting. That's why we're here to help! Let's break it down by your skin goals:
You want to maintain your unclogged pores
Start with the Botanical Kinetics Purifying Gel Cleanser to create a fresh, clean base. Use the Botanical Kinetics Pore Refiner after your cleanse to smooth away impurities and maintain your post-extraction radiance. 
You want to keep your skin feeling firm
The Tulasara Firm Concentrate uses plant extracts to make your skin feel smoother and more plump when used before moisturizer. Prevent signs of aging by adding Botanical Kinetics Intense Hydrating Rich Creme on top of the concentrate—you'll love the youthful firmness it provides. 
You want to avoid dry patches
Starting off with a gentle, hydrating cleanse is a must—softly remove impurities using the Botanical Kinetics All Sensitive Cleanser. Post-cleanse, go in with the Botanical Kinetics Intense Hydrator to keep your skin feeling silky-smooth. Finish it off with the best-selling Botanical Kinetics Hydrating Lotion on top to fend off your dryness through the season ahead.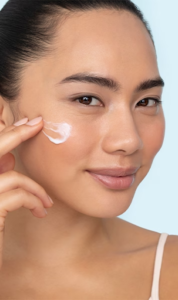 Don't Wait for Winter to Give Your Skin Some Love
With the weather cooling off, there's no better time to make sure your skin is as healthy as it can be. Book a facial at Centre Salon and Spa and don't forget to pick up the products your skin will love—for a post-facial glow that lasts all season.