A salon-worthy blowout can transform your hair, giving it volume, bounce and a polished finish. With the right techniques and the help of a few Aveda products, you can master the art of the perfect blowout, at home! 
Prepare Your Hair
The foundation of a great blowout lies in properly prepping your hair. Start by washing your hair with a high-quality shampoo and conditioner, such as Aveda's Damage Remedy Restructuring Shampoo and Conditioner. This duo is infused with plant-based ingredients that repair and strengthen your hair, providing a solid base for your blowout. After towel-drying, apply a heat protectant spray like Aveda's Smooth Infusion Perfect Blow Dry. This lightweight heat-activated treatment prevents frizz and shields your strands from heat styling.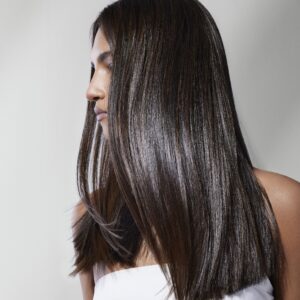 Master the Technique
Begin by gently detangling your hair with Aveda's Wooden Paddle Brush, which features extended bristles for easy detangling. Next, divide your hair into manageable sections using clips. Working with smaller sections ensures that each section is thoroughly dried and styled. For added volume, flip your head upside down while blow-drying, focusing on the roots. Remember to point the nozzle of your hairdryer downward to smoothen the cuticles and minimize frizz.
Finishing Touches
The final step to achieving the perfect blowout is adding those finishing touches. Allow your hair to cool for a few minutes before using your fingers to gently tousle and separate the strands. To enhance the shine and protect your hair from humidity, lightly mist Aveda's Brilliant Medium Hold Hair Spray over your styled locks. This non-aerosol hair spray imparts a luminous shine while taming frizz, leaving your hair looking effortlessly radiant.
Now you're ready to embark on your at-home blowout journey!