Here at Centre Salons and Spas, we are passionate about skin care. For the best results in
our treatments, we turn to Aveda skin care for products packed with antioxidants (molecules that fight free radicals in our skin and body). But what exactly are free radicals?
First, a Science Lesson
Free radicals are atoms that contain an unpaired electron. Their constant search to bind
with another electron to stabilize themselves can cause damage to cells, possibly playing a role in the development of cancer and other diseases, and accelerate the aging process.
The main culprits of free radical formation include pollution, UVA and UVB rays, cigarette
smoke, exposure to toxic chemicals like artificial fragrances and pesticides, and lifestyle
choices like a diet high in unhealthy fats, processed food, fried food and the consumption of drugs and alcohol.
Protecting Your Skin From Free Radicals
Antioxidants fight free radicals and are found in plants, fruits and vegetables. Guess where else they're found? In Aveda's skin care!
Aveda's products are rich in plant-sourced antioxidants, helping combat wrinkles and early signs of aging. We love working with these products in the treatment room, but also recommend you use them at home to maximize results.
Not sure which product is right for you? Here are a couple of our favorites for the summer months.
Tulasara Calm Concentrate: This super lightweight serum contains two main
antioxidants—pomegranate extract and red raspberry plant stem cells—and treats
inflammation, calms irritated skin and prevents oxidative stress.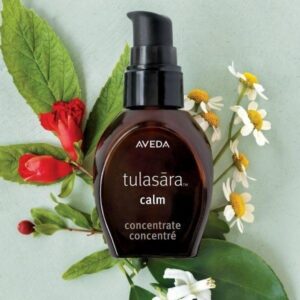 Daily Light Guard Defense Fluid Broad Spectrum SPF 30: This mineral sunblock
contains antioxidants to mitigate free radical formation that occurs from UVA and UVB
rays. These antioxidants include rice bran, organic ginger, sunflower-derived vitamin E and rosemary.
Stop by one of Centre's four locations to pick up one of these products or chat with one of our skin care specialists to learn what products are right for your skin type. Or simply purchase at our online store.